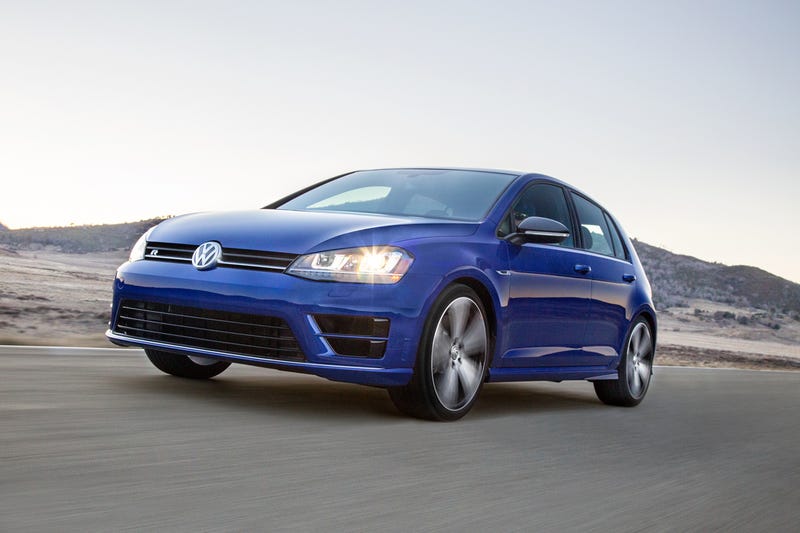 I've always thought ordering a car is something done by people who can't be happy with available dealer stocks (i.e. "picky people") and I'm not picky, unless we're discussing food. Because slimy food sucks. Or side mirror adjustments, because if you can see your car without shifting your head, you're doing it wrong. But I'm not ordering a car due to being picky, I'm ordering a car because I've found it's the only way to ensure I'll get one. And it's not just any car, it's one of my dream cars: a 2016 Golf R with DCC & Nav.
I have determined the Golf R is an achievable dream car at this point in my life, with "achievable" defined for me as:
A daily driver, as I have no extra spot to put a 3rd car. (Patience Caterham. Someday...)
$40K (+- 3K) max total cost.
Reasonable financing available.
Automatic dual clutch. Not "Because wife chooses not to learn to drive a manual", but because I've had a DSG for over 4 years and I like it.
4 doors.
The sales guy at the dealership tells me there's less than 10 Golf R's with DCC & Nav left in the country, so rather than scrounge in an attempt to correct computer errors find one, why not just order one? Wow, I am so special that Volkswagen will make a car specifically for little old me. Yep, just for me. He also tells me they receive details on the 2016 models from Volkswagen soon, and I'll be ordering mine then.

Back in January this article removed any hesitation I may have had ("...DCC in 'Race' mode was a revelation.") I'm ordering one now because the stars have aligned and the opportunity has finally presented itself.
The current choices are Limestone Gray Metallic, Lapiz Blue Metallic, Tornado Red, or Oryx White Pearl. (I doubt the color choices will change from the current model year) Also, I didn't mention "Deep Black Pearl Metallic" because my current 2011 GTI is that color.
So, what color would you choose?